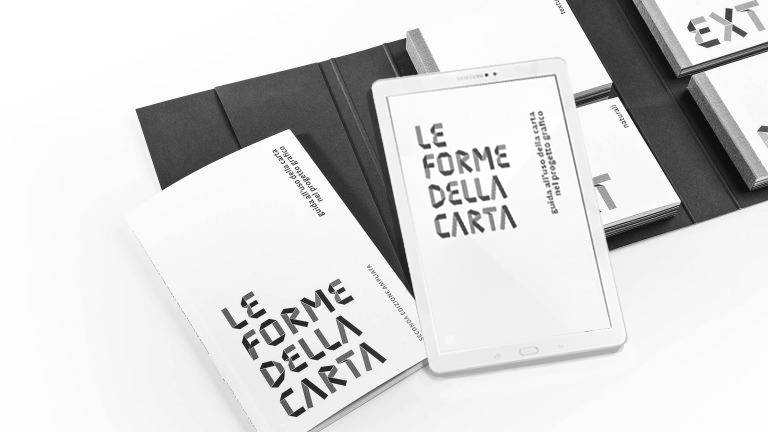 Paper and digital: a possible integration
Within the process of dematerialization imposed by digitalization, the paper has not entirely lost its importance. Replaced whenever online communication is faster and cheaper, paper retains its central role when concepts such as value, solidity, and status have to be conveyed. And new alliances are thereby created: paper needs the support of the Internet to disseminate its features, while online communication uses paper to keep what is otherwise likely to fade in the highly distracting world of the web.
The new app The forms of paper (download from the www.theformsofpaper.com site, online at the end of September) opens the door to the fascination and prowess of paper to an audience rather distant from the analog world – the world of young designers.
How to find the right paper to develop a memorable label? How can a brochure be set up in an unconventional manner? These and many other questions which The forms of paper (guide, swatch book and now app) can now answer fully and simply through examples of projects that have already been implemented.
Activity accompanied by the Fedrigoni team will go through the process of choosing the most suitable paper and processing starting from an actual project and with the integrated help of on-line and on-life tools.
---
Excellence in paper
Paper tells stories. The way it looks, the way it feels to touch, even the way it smells. Since 1888 Fedrigoni means excellence in special papers devoted to Publishing, Printing, Graphic Design, Luxury Packaging: a long journey across books, exhibitions' catalogs, fine writing papers and gorgeous cases. All the forms in which Fedrigoni papers have been transformed to and have transported the ideas and works of authors, artists and designers from all over the world.
With 16 production plants and distribution in 130 countries, Fedrigoni is a consolidated Group and an attainable actor when it comes to printing quality works, paying close attention to the environmental impact of its manufacturing processes. All the papers produced are FSC certified in order to guarantee the lowest environmental impact on graphic works.